VII NATIONAL CONGRESS – SIFAP CERTIFICATION OF PREPARER PHARMACIST: MEANING AND PURPOSE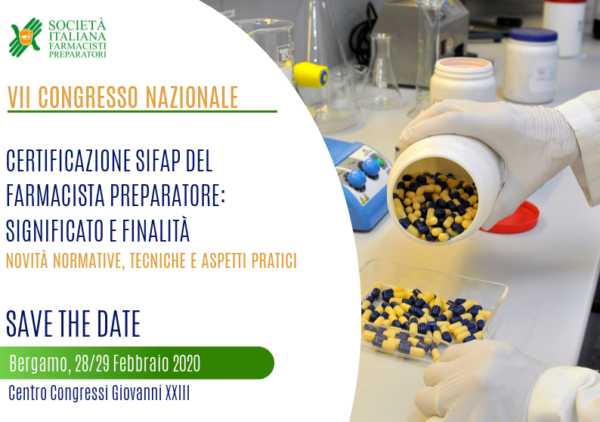 Date: 28/02/2020 - 29/02/2020
Venue: Centro Congressi Giovanni XXIII - Bergamo
Event
REGISTRATION AVAILABLE SOON
SIFAP, a scientific society that gathers pharmacists who prepare medicines in the pharmacy laboratory, organizes its VII National Congress, entitled Certificazione SIFAP del Farmacista Preparatore: significato e finalità. Novità normative, tecniche e aspetti pratici, in Bergamo on Friday 28 and Saturday 29 February 2020.
The Congress is aimed to analyze the main opportunities and problems of drug preparation in pharmacies open to the public and hospitals.
The conference will open with a lectio magistralis on the role of personalized therapy in the medicine of the future.
The session will continue with a round table discussion on the main new regulations of interest to the pharmacist preparer.
The program is enriched by parallel sessions that address technical and highly specific issues, the participant has the opportunity to choose the topics of most interest, such as: cannabis preparations, dermo-cosmetic support in oncology, and the technical requirements for the preparation of eye drops, the dispensing of veterinary preparations and even trichology, botanicals and suspensions.
We are proud to inform you that it will be an opportunity to give the first SIFAP Certifications to pharmacists who have embraced the project of recognition of the preparatory pharmacist started in the previous congress, in the belief that it can become a quality certificate.
In addition, pharmacists wishing to present scientific work may participate in the poster session and -when selected- in oral scientific communications.
The industry will be given wide visibility as a sponsor in a variety of ways and there will be a dedicated exhibition area.
REGISTRATION
Registration will be available soon