VIRTUAL CONFERENCE: BIOHYDROGELS DAY 2021
Event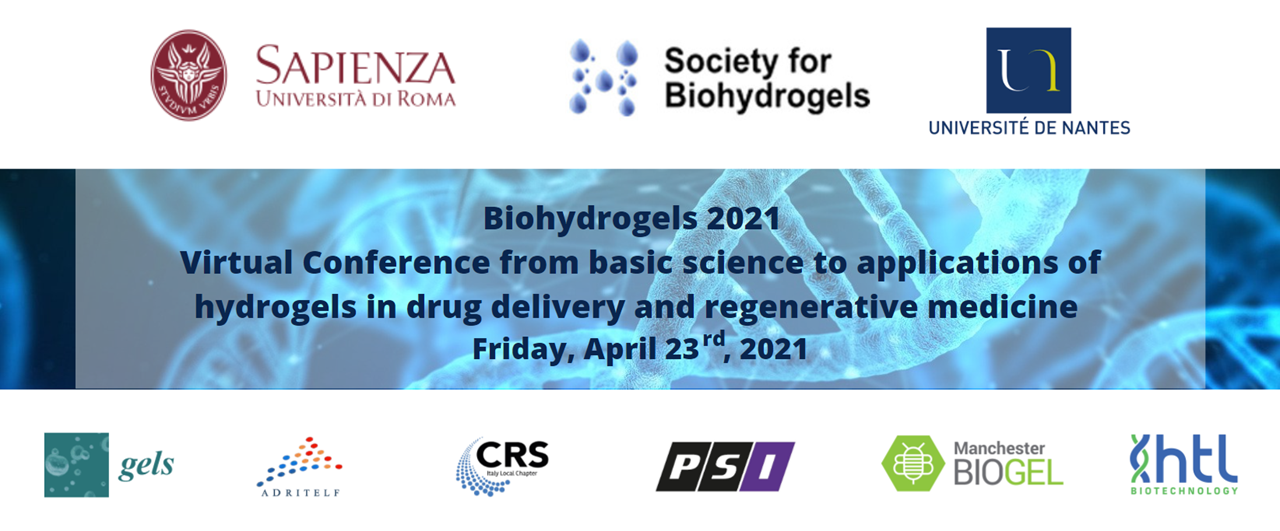 Since the first "Biohydrogels" meeting organized by Prof. Rolando Barbucci in 2007, many other interesting congresses followed with the common aim to promote and develop scientific exchanges and to create an interdisciplinary network in this field.
The "Society for Biohydrogels", continuing this opera and waiting for the "live congress" in 2022, organizes a full day virtual immersion in the exciting world of biohydrogels.
Six invited speakers will guide participants from basic science and design to translations and applications of hydrogels in drug delivery and regenerative medicine.
Confirmed speakers

Basic Science and Design
Prof. Francesco Sciortino – Sapienza Università di Roma – Italy
Prof. Jian Ping Gong – Hokkaido University – Japan
Prof. Ahmad Mehdi – Institut Charles Gerhardt Montpellier – France
Translational and Applications in Drug Delivery and Regenerative Medicine
Prof. Molly Shoichet – University of Toronto – Canada
Prof. Véronique Préat – Université Catholique de Louvain – Belgium
Prof. Tal Dvir – Tel Aviv University – Israel
Online registration
Participation is free upon registration, by filling in the the following fields.
Registrations will be accepted until 5.00 pm on the day before the conference takes place.
N.B. INFORMATION TO PARTICIPATE IN THE WEBINAR WILL BE AUTOMATICALLY SENT VIA E-MAIL. IT IS ADVISED TO ALSO CHECK IN SPAM (JUNK MAILBOX) AND TO CONTACT THE ORGANIZING SECRETARIAT IN CASE OF NON-RECEPTION.
For further information, please contact the Organizing Secretariat:
New Aurameeting Srl
Via Rocca d'Anfo, 7 – 20161 Milano I
Tel. 0039 02 6620 3390
eventi@newaurameeting.it – www.newaurameeting.it