XIII National Meeting of Qualified People (QP) in the pharmaceutical field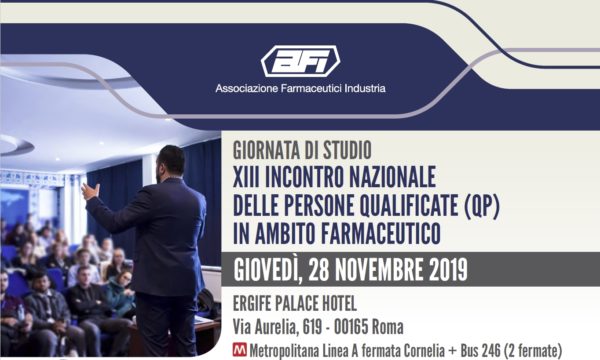 Date: 28/11/2019
Venue: Ergife Palace Hotel
Event
PROGRAM AND REGISTRATION WILL BE AVAILABLE SOON
The XIII National Meeting of QP is aimed at those who already perform this task, those who aspire to play this role and all managers and technicians of the drug engaged in other functions, but frequently in contact with Qualified Persons and their problems. In line with AFI's mission, the day aims to promote the professionalism and training of its members in an increasingly complex and challenging context. It is an excellent opportunity for the professional development of both qualified people and other operators in the pharmaceutical industry. As in recent editions, there will be an open and fruitful exchange of opinions and technical and regulatory observations with officials and managers of AIFA, who will participate in the meeting again this year, making a significant contribution to the discussion.
The Study Day  has the following objectives
1) To contribute to the growth of the culture of Quality through the stimulation of the professionalism of QPs.
2) To provide an update on the most recent regulations of interest for QPs and their application, bringing to the attention of participants many experiences and testimonies from companies and from AFI working groups.
3) To examine, with the presence of the regulatory authorities, the set of problems that arise in the application of the rules on QP and possibly find proposals and solutions that make it easier and more effective to fulfill.
4) To create an opportunity for meeting and cultural exchange between professionals who carry out or intend to carry out the function of QP and their interlocutors, in the various sectors related to the drug, from the production of active ingredients to the production and distribution of medicines.
Venue
Ergife Palace Hotel
Via Aurelia, 619 – 00165 Roma
How to reach the Venue:
PIAZZA DI SPAGNA
Bus 246 until Piazza Irnerio (2 stops) + Underground until Piazza di Spagna.
VATICANO E SAN PIETRO
Bus 246 until da Piazza Irnerio (2 stops) + Underground until Ottaviano
COLOSSEO, PIAZZA VENEZIA and FONTANA DI TREVI
Bus 246 until Piazza Irnerio (2 stops) + Bus 46 until Piazza Venezia (bus Terminal)
TERMINI STATION
Bus 246 until Piazza Irnerio
For further information, please contact the Organizing Secretariat:
New Aurameeting Srl
Via Rocca d'Anfo, 7 – 20161 Milano
Tel. 0039 02 6620 3390
eventi@newaurameeting.it – www.newaurameeting.it